Raine
is an Arcade/NeoGeoCD emulator as well as a great MAME alternative.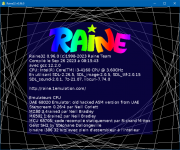 0.96: read the text on the following link…
For more information on changelog:
Wow, this one was hard ! For those who have read the topic about the sh2 version, this is it, except finally there was no serious bug in the sh2 emulator, it was related to the cache read which is very specific to the saturn and which is useless here and which gave me an error very hard to unders...
Download: