DuckStation is an simulator/emulator of the Sony PlayStation(TM) console, focusing on playability, speed, and long-term maintainability. The goal is to be as accurate as possible while maintaining performance suitable for low-end devices.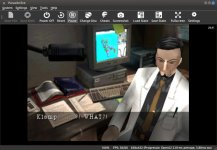 Latest changes:
+ Update to rcheevos v10.2.0
+ CPU: Prevent mismatched va_start/va_end in log
+ CPU/CodeCache: Fix currently-invalidated blocks breaking memory states
+ GameSettings: Disable GPU runahead for Red Asphalt PAL
+ CDImageMDS: Possible fix for multi-track images
+ Improve macOS and Linux build instructions
::
Github
::
Latest development builds
::
Related news post at PSEmu.pl
:: Older builds for
Linux
and
Windows
,
Android
,
Mac
and
Source code
.